Shipping Options
All of our shipping prices are customized to your specific needs to save you as much as possible. Once you place your order, a member of customer service department will contact you to review the order and offer the best shipping quote to you. At that time, we will help you complete your order.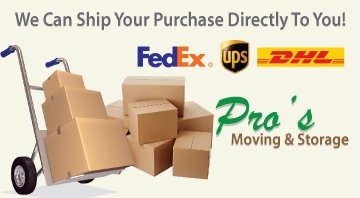 We work with a number of shipping providers to present multiple shipping options to us so that you can get the best possible quote on shipping. Here is a sampling of some of the companies we utilize for delivery services:
DHL
FedEx
UPS
LTL Carriers
Freight Brokers
Local Delivery Services
If you have a personal or business account with a specified shipping provider, we can tailor your shipping cost to accommodate your existing account.
Office Pros is committed to helping make your shopping experience as easy as possible. With that in mind, we work hard to identify the most customer-friendly shipping methods possible to ship office furniture to you. If you have questions, please feel free to email us @ one of the following addresses: bill@officeprosonline.com alfonzo@officeprosonline.com imelda@officeprosonline.com
or call us @ (770) 287-7767.