Used Office Furniture | Cornelia
Cornelia Showroom is closed. Please visit Our Athens showrooms to find the south's largest inventory of new and used office furniture.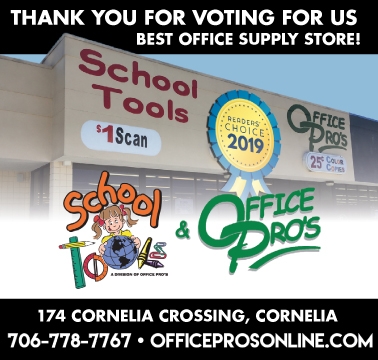 School Tools & Office Pro's of Cornelia is conveniently located just off Highway 365 at the Level Grove Road exit connecting to 441. We have 15,000 square feet in the middle section of the Cornelia Crossing Shopping Center filled with office supplies, educational and teacher materials, school supplies, a complete Copy Center, used office furniture, new office furniture, and classroom furniture. Our neighbors in the center include Farmers Furniture, Allstate Insurance, and Spring Garden Restaurant.
We are happy to provide many items at prices much lower than the big box stores, and you will find our staff to be courteous, knowledgeable and always willing to go the extra mile to find what you need.
174 Cornelia Crossing Shopping Center,
Cornelia, GA 30531
Hours: Monday - Friday 9am - 6pm; Saturday 9am - 2pm; Closed Sunday.
Phone: 706-778-7767
Fax: (706) 778-5698
If you don't see what you are searching for, call us or email us at cornelia@officeprosonline.com